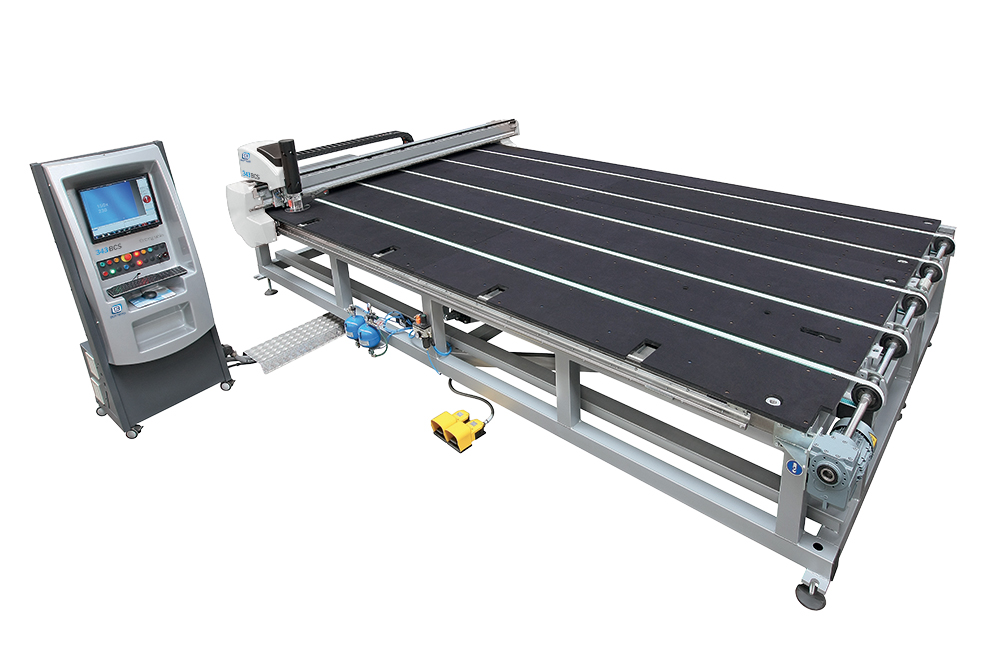 343 BCS
Cutting, grinding and marking table fully integrated with manual or automatic loading and breakout modules, intended for applications requiring high productivity. The 343 BCS cutting table is fixed and complete with belt conveyor, automatic selection of cutting pressures, Shape Scanner + Scan Cad, optimiser on the machine and BCMS Windows.
Main qualities
BCS cutting tables are designed to withstand the high workloads typically adopted during single- or even multiple-shift production of windows or panels in the furniture sector, as well as of components for household appliances, in the automotive industry and in many other areas. BCS cutting tables are among the most popular and sought-after in the world, and in the market they represent a major benchmark in terms of production capacity and reliability.
The high quality standard of the BCS range is particularly noticeable in the care for details: each component is carefully studied and designed to offer performance measuring up to the most demanding requirements, making the machine even safer and more performing.
The BCS range stands out due to its modularity and versatility, thanks to which the float cutting tables can be totally configured according to specific customer requirements: from stand-alone cutting tables intended for small productions, up to intensive high automation level production systems, fully integrated with Low-E grinding devices and marking, and loading and breakout modules
Features
With the aim of meeting all production needs, the BS cutting tables allow also fitting the cutting carriage with one of the various accessories available. Each constructive and functional features of the BCS range is designed to ensure extreme processing precision and maximum productivity, at the service of each specific production requirement.
Cutting bridge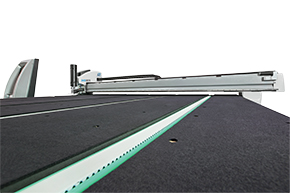 Structure
Steel cutting bridge placed crosswise to the machine for maximum solidity and resistance to torsion.
Drive
Single brushless motor with pinion motor belt transmission.
Transmission unit
Torque shaft for the accurate and balanced motion transmission along the bridge.
Carriage handling
High precision and low noise carriage linear sliding guides, ground and installed on machined surface.
Carriage and cutting head
Cut
Testina di taglio motorizzata, costituita da corpo in lega di alluminio e stelo completo di utensile di taglio o taglio plastico. Misurazione automatica dello spessore vetro per mezzo di encoder lineare e conseguente caricamento automatico dei parametri di taglio preimpostati a software. Pressione di taglio regolata per mezzo di elettrovalvola proporzionale e sistema di compensazione superficie vetro.
Safety
Rilevatore di presenza vetro ed elemento terminale dello stelo a rottura controllata, facilmente sostituibile, per evitare sollecitazioni meccaniche sul carrello e sul ponte in caso di urto.
Trolley
Carrello in alluminio con elettronica di controllo e gestione della testina a bordo, completo di sensore ottico in grado di effettuare la squadratura elettronica della lastra e di acquisire automaticamente una sagoma grazie al sistema Shape Scanner.
Bridge Handling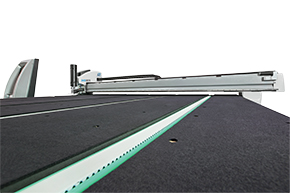 Guides
Guide di scorrimento ponte ad alta precisione e bassa rumorosità, rettificate e installate su basamento lavorato a macchina, garanzia di perfetta rettilineità di taglio senza necessità di regolazione.
Racks
Ground racks, ensuring maximum positioning and cutting precision, and facing down to prevent the accumulation of dirt.
Materials
Components made of highly durable and minimal wear materials, ensuring optimal performance over time.
Maintenance
Easily accessible components, ensuring immediate and fast maintenance.
Technical specifications
Working speed
Maximum bridge speed
140 m/min
Maximum carriage speed (*)
200 m/min
Maximum grinding speed with Easy deletion
80 m/min
Maximum grinding speed with LMT
160 m/min
(*) the maximum carriage speed is 160 m/min in the presence of LMT, PPL or LAM Shape set-ups.
Accuracy
Cutting accuracy on straight processes
± 0.15 mm
Thicknesses which can be cut
Standard thicknesses
2 ÷ 19 mm
Optional thickness
19 ÷ 25 mm
Work table
Worktable height
930 ± 40 mm
Versions
343 BCS Regular
Dimensions
5250 x 3586 mm
Maximum dimension of processable sheet
3810 x 2750 mm
343 BCS Intermediate
Dimensions
6100 x 4079 mm
Maximum dimension of processable sheet
4600 x 3355 mm
343 BCS Jumbo
Dimensions
7600 x 4191 mm
Maximum dimension of processable sheet
6100 x 3355 mm
Verwandte Medien
| PDF-Katalog