Bottero is the world's only company that can design and make machinery to process flat and hollow glass as well as entire production lines for laminated and float sheets. We are constantly expanding our expertise and technology with the aim of becoming the only benchmark in the glass sector for our customers.
About us
Bottero is an Italian group that has specialized in the production of glass processing machines since 1957. Over the years we have developed our offer in two product categories: flat glass, hollow glass. In these sectors, we are today the world leaders and we operate internationally through the factories and branches in the countries: Italy, Germany, France, United Kingdom, USA, China and Brazil.
Over time we have been able to anticipate the needs of our customers, redefining product standards and process performance in the glass sector.
We promote innovation by dedicating attention and study to the direct experience of the end user. The development of new technologies, and of the relative numerous patents, finds application in the quality of the selected materials, thanks to trusted suppliers, and in the vertically integrated product care followed by our professionals.
Bottero collaborates with small and medium-sized enterprises and with large international groups for which we design and build complete customized production lines.
Our unrivaled competitiveness is enhanced by the technology produced and the variety of solutions that allow us to meet every new need, with the design of automated and integrated systems.
Our values
We're like glass: transparent yet practical. This is why, in over half a century, we built and maintained a name synonymous with reliability and sound, long-standing professional relationships. We share and promote four fundamental values as part of it: continuity, innovation, quality and customer care, with our commitment to work with society and with the environment in mind
Continuity
We have been operating on the glass market, right by our partners' side, for over 60 years. This allows us to offer our best experience in the sector and become a safe, outstanding benchmark
Innovation
Now, as in the past, we constantly challenge ourselves, redefining sector standards day in, day out. To do this, we place great attention on our R&D operations and on recruiting and training the best engineers and technicians, who every day contribute to our position at the technological forefront.
Quality
We don't just guarantee an innovative product, but also a quality one. The soundness and reliability of machinery are tested during several stages of the preparation with a Total Quality Management system, thereby ensuring maximum operativity for our customers.
Customer care
Customers are our top priority and our team can fulfil any request, in any area worldwide. We have an extensive sales and support network that follows the customer from the first contact up to the end of the product lifecycle, always remaining at the customer's service to provide support.
Our history
The Group started in 1957 when Pasquale Bottero left his job in a glassworks and set up Bottero Costruzioni Meccaniche with Antonino Faccenda. Together, they introduced the first innovations in machines designed to process glass sheets. This led to the first patents: the tilting table and the tongs to lift the sheets. Along with flat glass ones, gradually came hollow glass machines, intended for the production of bottles and containers.

In 1972, when Pasquale Bottero passed away, Leonardo Ghinamo, an engineer from Boves, joined as a shareholder and played a leading role in the company's internationalisation process. Ghinamo, the second-eldest of four brothers and a graduate from the Politecnico in Turin, thanks to a student grant, he studied at Fiat's vocational school in corso Marconi before becoming a reserve officer at the air force school in Florence.

After finishing his military service, he went back to Mirafiori, the management company, and then to Lecco. He subsequently returned to Cuneo as an entrepreneur. In addition to him, other families from the area around Cuneo are shareholders and each family holds an operational role in the company: the Faccenda, the Olmo and the Sesia families.
Global presence
Europe, Africa, North America, Latin America, Middle East, Far East, North Asia, Oceania. 90% of our Bottero industrial production is located in foreign markets and the value of our exports reaches 95% of the entire turnover. We have conquered this position thanks to the ability to know how to seize the commercial opportunities offered by the various markets and those of production, technical and design development, offered by different countries of the world.
For this reason, Bottero is present internationally through its offices.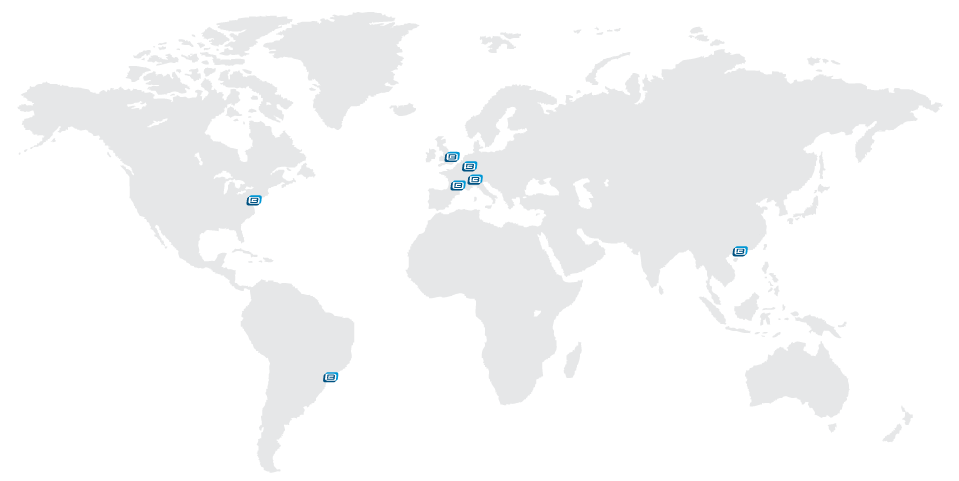 Bottero S.p.A. Headquarter
Cuneo – Italy
Revimac S.r.l.
Vicenza – Italy
Bottero France SA
Nice - France
Bottero U.K. Limited
Lancashire - United Kingdom
Bottero GmbH
Grevenbroich - Germany
Bottero Glass Industry Co. Ltd
Shanghai - China
Bottero Flat Glass Inc.
Kernersville - North Carolina - USA
Bottero do Brasil
S. Paolo - Brasil
Bottero S.p.A. - Headquarter
Cuneo – Italy
Revimac S.r.l.
Vicenza – Italy
Bottero Glass Industry Co. Ltd
Foshan – China
Bottero S.p.A. - Headquarter
Cuneo – Italy
Revimac S.r.l.
Vicenza – Italy
Bottero Engineering GmbH
Donauwörth - Germany
Bottero Glass Industry Co. Ltd
Foshan – China
JV Bottero & Tiama – GlassFORM.AI
Rovereto - Italy
Visit the Contact section for more information >
Results
Today Bottero is an industrial group with over 600 direct employees and over 25% of the workforce made up of engineers engaged in R&D and Service activities.
Thanks to the experience gained in the field through thousands of installations and the continuous and significant investments in research and development, Bottero has acquired the trust of many multinational companies and large industrial groups.
The international dimension of the company, the ability to be highly innovative and the independent position in the market place Bottero in the ideal condition to provide each customer with tailor-made solutions for the optimization of production processes and indications on new opportunities for technological investment.
The group
85
Agents and distributors
100
Nations with active installations
50,000
active installations
To express maximum efficiency, Bottero has organized itself into 2 distinct business units, which collaborate closely in terms of activities, in particular that of R&D, but which allow it to be present on the markets in a targeted manner. This allowed us to develop in a balanced way in all three sectors at the same time.
Flat Glass
The company started out with its flat glass division, which led it to make history in this sector with leading-edge solutions, from the first tilting tables to the ultra-modern modular series. Nowadays flat glass machines automatically perform loading, cutting, breakout, handling, processing and grinding processes on any kind of glass (float, moulded, low-emissivity, laminated) for the furnishing, building, electrical appliances and automotive sectors. The products of this category are numerical control cutting machines, cutting lines with automatic loading and breakout systems, automatic machines and lines to cut stratified glass, straight edgers, bevelling machines, bilateral edgers, shaping edgers and workstations with numerical control. Their modular design and wide range of accessories allow for customised solutions that can be easily updated and readapted over time. The solutions offered, with integrated production from start to finish, guarantee customers a quality product and allow us to meet any production requirement.
This Business Unit has a particularly advanced organisation and offers an unmatched service. Indeed, Bottero has a widespread global servicing network, available with immediate assistance over the phone and the management of expert technicians directly at the customer's premises. With its customer service, Bottero provides solutions, training and, when needed, suitable spare parts, even for discontinued machines.
Hollow glass
The production of machines to turn hollow glass into glass bottles and containers is introduced in the company in 1966. It rapidly grew and is now one of its three strategic business units selling in over 40 countries. The office in Cuneo focuses on the design, construction and testing stages, while these lines are serviced and upgraded in the Revimac plant near Vicenza.
The products in this category include: mechanical and electronic gob feeders with various manufacturing capacities; forming machines for any kind and size of glass container; a wide range of control and automation systems; additional accessories, equipment and devices for the "hot area" in a glassworks. The forming systems are built by Bottero with production from start to finish, with solutions that are customised and turned into modular items according to identified costumer needs.
After delivering the system to the customer, Bottero technicians work on training machine operators, both at Bottero's premises and at the customer's glassworks, with assistance to improve glass production cycles and support with servicing to guarantee continuity.
2 sectors, one passion
Innovation
Over the years, Bottero has gradually increased its investments in Research & Development, to always propose new solutions that can improve the performance, efficiency and usability of the products. In this constant effort to innovate, we continue to pay particular attention to maintaining the high reliability that distinguishes our solutions. Innovation is the necessary condition for us to be able to operate as an absolute leader in the glass market.
This feature unites the two business units and is one of the founding values, on which our company has always relied, to build its mission and develop its competitive advantage.
With the term innovation we refer not only to the technological one, but to any device that leads to a concrete improvement in the performance, efficiency, usability or reliability of our products. It follows that Research & Development is a fundamental resource to which an important budget and strong attention in organizational terms are continuously allocated.
The Research & Development department is structured in different specialized areas and equipped with the best technologies to allow the simulation with mathematical models of the glass forming flows and the design studies of the machinery. Many of the activities are carried out in collaboration with academic institutes and specialized laboratories, with which in-depth studies are carried out on the behavior of the raw material to be processed, glass.
We also pay attention and resources to the selection and training of our staff, consisting mainly of engineers and specialized technicians, coming from sectors dedicated to high technologies. The constant research activity has allowed us to introduce countless qualitative improvements and to obtain numerous industrial patents applied to our machinery and recognized internationally as revolutionary technological innovations. For Bottero, no number will ever be a goal, the only aim, in fact, is to continue to be the undisputed pioneers of the sector.