515 LAMe
515 LAMe is a versatile and easy-touse machine, that fits any customer's need for the production of laminated glass. The automatic control of all parameters concerning the glass cut and positioning allows to reach the highest productivity standards.
Main qualities
Bottero's portfolio of laminated glass cutting products meets any possible production needs in terms of formats and thickness, and ensures excellent cutting results even in case of 12+12 mm sheets.
The positioning bridge, manual for 511LAM-S and automatic for 515LAMe and 520LAMe, helps the glass handling operations. The high density felt guarantees the best air floatation and avoids that glass chips get stuck inside with consequent potential scratching on the lower surface of glass sheets
The pneumatically operated arms on the working table allow smooth tilt of the glass sheet. Engineered to handle considerable weights and dimensions, these arms are the ideal instrument to efficiently load and unload large sheets.
The air cushion fan is directly fitted on the machine frame in order to obtain the max efficiency on the air cushion system. The shut-off system installed on the fan inlet allows the immediate interruption of the air cushion and, consequently, the risk of glass shifting.
Features
Blade cutting system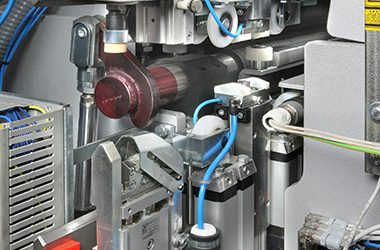 Blade cutting system (optional for 511LAM-S and standard for 515-520LAMe) is the best solution for customers processing glass with thick PVB layers. This system provides several benefits:
• Minimum heat of the glass.
• No waiting time between cuts.
• Avoiding delamination on PVB.
• High quality on the cut.

HP infrared heating element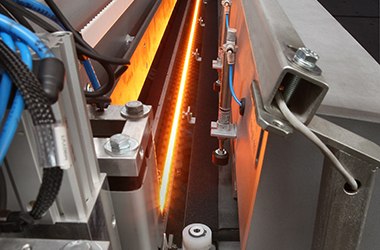 The HP infrared heating element concentrates the heating focus on the PVB layer rather than on the glass. Reduction of warming on glass surface avoids waiting time between cuts and allows significant savings on processing time. The two independent heating elements are automatically activated by the software according to the length and the position of the cut, thus allowing considerable energy and consequently economic savings.
Software
Thanks to user-friendly software, all machine functionalities and parameters can be set in a simple and efficient way. The on-board optimizer and the dynamic visualization of the operations in process help the operator to handle the most complex cutting lay-outs.
Technical specifications
Min thickness
2.2.0,38 PVB mm
Max thickness
8.8.4,56 PVB mm
Max squaring length
3210 mm
Max weight loadable on arms
450 Kg
Height of working table
930 +/- 20 mm
Related Media
| PDF Catalogue