353 BKM
Loading, cutting, grinding, marking and breakout table intended for the wider range of applications.
The 343 BKM is a fixed cutting table with betls and it is available with air cushion with quick closing (option), automatic selection of cutting pressures, Shape Scanner + Scan Cad, optimiser on the machine and BCMS Windows.
Main qualities
Designed for glassmakers who want to evolve their business by adopting automated and flexible cutting systems, BKM tables offer all the quality and simple use that is typical in Bottero products. Thanks to the shared single development platform, common to all cutting systems, BKM tables use technological solutions and components that are also adopted on top of the range Bottero systems, thereby ensuring uncompromising performance and reliability.
BKM cutting systems can make linear cuts and shapes on sheets with a thickness of up to 19 mm, thereby offering the possibility of making small and medium productions in series and particular pieces.
The BKM cutting systems are available both in the standalone version, for loading, cutting and breakout of the material on the panel, and in the fixed structure version for high productivity in-line integration. All models can be equipped with a wide range of accessories.
Features
Each constructive and functional features of the BKM range is designed to ensure extreme processing precision and maximum productivity, at the service of each specific production requirement.
Cutting bridge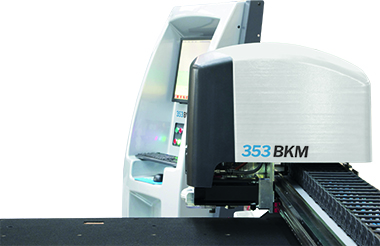 Structure
Steel cutting bridge placed crosswise to the machine for maximum solidity and resistance to torsion.
Drive
Double brushless motor with gantry transmission.
Carriage handling
High precision and low noise carriage linear sliding guides, ground and installed on machined surface.
Carriage and cutting head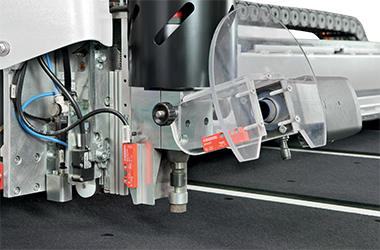 Cut
Motorised cutting head, formed by an aluminium alloy body and rod with cutting tool or plastic cut. Automatic glass thickness measurement by linear encoder and consequent automatic loading of the cutting parameters preset in the software. Cutting pressure adjusted by means of proportional solenoid valve and glass surface compensation system.
Bridge Handling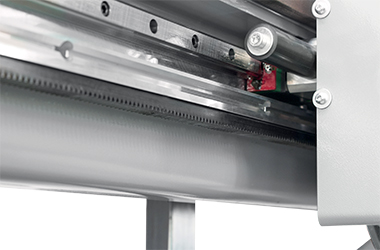 Guides
High precision and low noise bridge sliding guides, ground and installed on machined bed, ensuring a perfectly straight cut without the need for adjustment.
Racks
Ground racks, ensuring maximum positioning and cutting precision, and facing down to prevent the accumulation of dirt.
Materials
Components made of highly durable and minimal wear materials, ensuring optimal performance over time. Easily accessible components, ensuring immediate and fast maintenance.
Technical specifications
Working speed
Maximum bridge speed
150 m/min
Maximum carriage speed
150 m/min
Maximum grinding speed with Easy deletion
80 m/min
Accuracy
Cutting accuracy on straight processes
± 0.15 mm
Thicknesses which can be cut
Glass thickness
2 ÷ 19 mm
Work table
Worktable height
930 ± 40 mm
Versions
353 BKM Regular
Dimensions
5250 x 2905 mm
Maximum dimension of processable sheet
3810 x 2750 mm
353 BKM Jumbo
Dimensions
7125 x 4191 mm
Maximum dimension of processable sheet
6100 x 3355 mm
Related Media
| PDF Catalogue