Gemini
The Gemini double edger is a safe and reliable machine, designed to guarantee high precision and to limit maintenance as much as possible.
Main qualities
The Bottero round edged two-sided machines are the ideal machines for processing at high production rates, typical of the household appliance, automotive, industrial refrigeration, TV screen and solar panel production sectors. In these contexts, where the demand for productivity is accompanied by the need for reliability and automation, the solutions offered by Bottero are distinguished by having been chosen by some of the largest industrial groups in the world for the implementation of plants that can treat thousands of square metres of product per day.
During the work phase, the glass sheet conveyor system operates with high resistance belts built with the "closed loop" technology. The presence of springs guarantees the right pressure of the top belts on the glass depending on its thickness. Glass advancement is constantly monitored by an encoder connected to a specific circuit board which sends a series of signals to the electropneumatic system so that the polishing wheels only switch on as the sheet passes allowing the tools to be used to their best.
Transfer system studied specifically to manage thin sheets of glass at high speeds avoiding any type of breakage while conveying the glass form one machine to the other. The passage of glass from the upper transfer surface to the belts is assisted by a pneumatic wheel system that avoids any type of damage to the glass.
The belt cleaning system removes any residues, keeping them from depositing on the glass surface and damaging it. The possibility of using special belts with a cleaning system facilitates the processing of coated glass without damaging the surface.
Features
Why choose them?
Because they offer something extra
On demand, the double edger can be equipped with a corner dubbing system, consisting of two peripheral wheels (one on the each side) which process the four corners of the glass. There are three types of corner dubbing systems available:
• Pneumatic system up to 8 m
• Pneumatic system up to 12 m
• Servo assisted system up to 20 m.
In the HP versions, an inverter controls the motors of the diamond spindles, allowing their wheels to rotate up to 4200 rpm.
Why choose them?
Because they are easy to use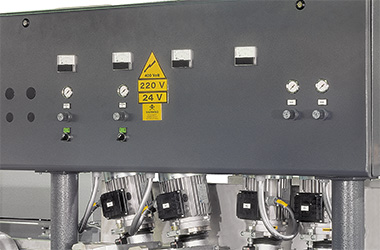 The amperometers which read the current absorbed by the grinding wheels are positioned near the spindles, thereby making it easy to check the work conditions of the tools.
On demand, the double edger can be equipped with water system tank and pump. The stainless steel tank is located at the end of the base, at a convenient position for cleaning.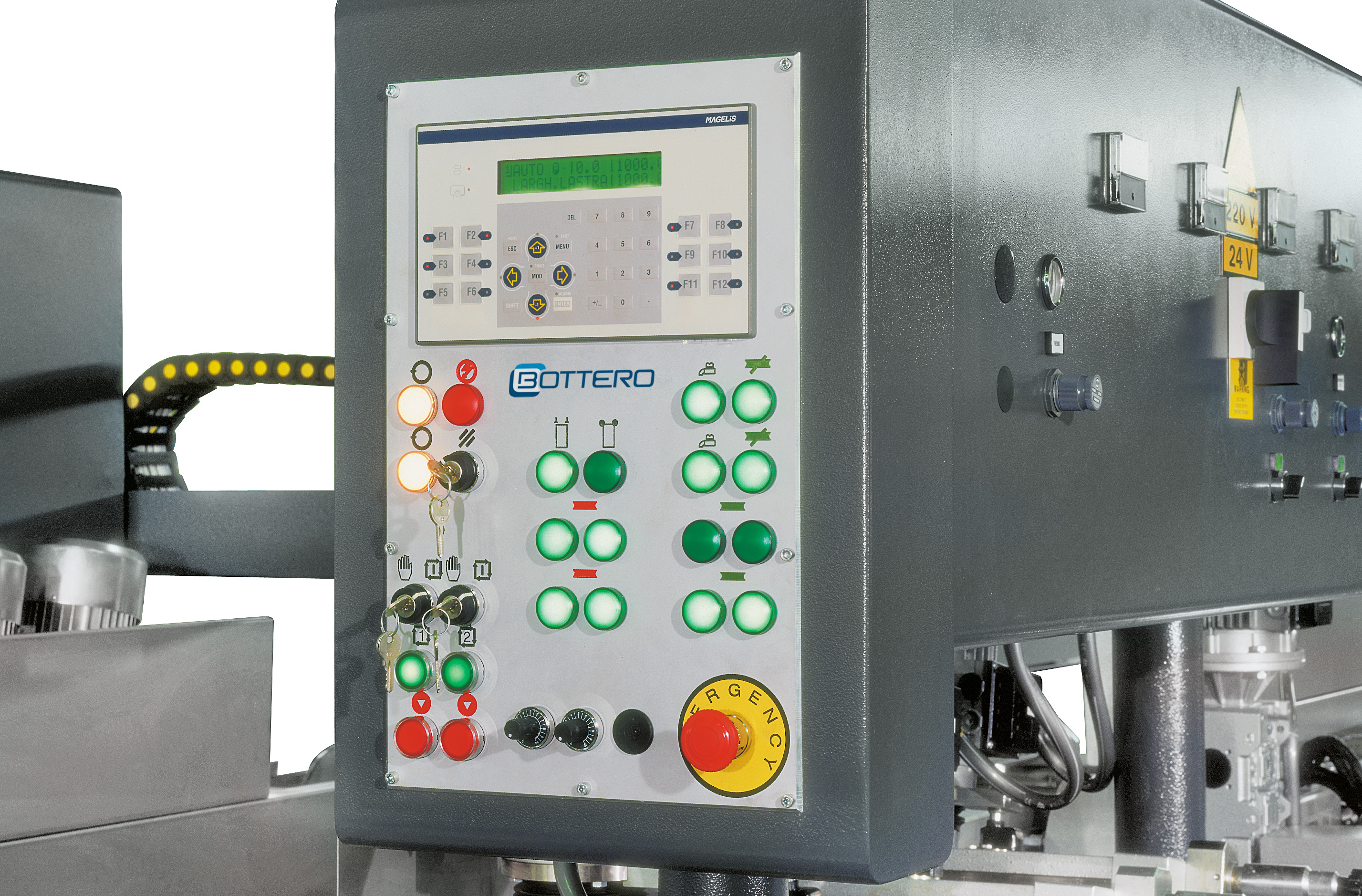 The control panel is located in a comfortable position for the operator, near the loading zone. Operations are controlled by a PLC consisting of a membrane keyboard and an LCD display which makes entering and viewing data extremely easy.
Technical specifications
306 N
Minimum glass dim
80 x 80 mm
Glass thickness
2 ÷ 12 mm
Installed power
24,5 KVA (19,2 KW)
Worktable height
900 ± 50 mm
306 HP
Minimum glass dim
80 x 80 mm
Glass thickness
2 ÷ 12 mm
Installed power
47,5 KVA (38KW)
Worktable height
900 ± 50 mm
308 N
Minimum glass dim
80 x 80 mm
Glass thickness
2 ÷ 12 mm
Installed power
28 KVA (22,4KW)
Worktable height
900 ± 50 mm
308 HP
Minimum glass dim
80 x 80 mm
Glass thickness
2 ÷ 12 mm
Installed power
47,5 KVA (38KW)
Worktable height
900 ± 50 mm
Related Media
| PDF Catalogue