780 DMW
The drill with opposite heads is conceived as two combined drilling machines to be used
individually in case of sheets having max width of 1600 mm or as one machine for larger
dimensions. It consists of a solid electro-welded steel gantry base on which four independent
heads slide; two upper ones for drilling, grinding and milling and two lower ones for drilling and
grinding.
From a mechanical and electronic point of view, each half of the machine consists of 10 axes
with controlled speed and position.
Main qualities
The use in complex applications and the development of ever more refined fastening solutions, make the drilling and milling of the glass a fundamental process to ensure the implementation of quality anchors to the material. The increasing precision required and the need to operate on increasingly larger formats and thicknesses are fulfilled by the 780 DMW Bottero system – a machine that is ideal for operating on both large and small formats, offering all the precision, efficiency and flexibility, which every modern glass factory requires.
The two control consoles, master and slave, allow the 780 DMW to be used with great flexibility. The machine can be programmed for executing two individual cycles using two heads (upper and lower) for each piece or work with all four on a single piece.
All sheet processing types can be automatically managed by means of the infeed and outfeed conveyors. The pieces are automatically sorted in the processing area according to the program defined by the operator. Thickness control and squaring are performed on the infeed conveyor.
64 tools 16 per head allow always having the machine ready for any type of processing. Access to tool holder is also immediate for the lower heads, allowing tool change in a few seconds. The cone-mounted tools are selected and held directly by the spindle.
Features
Choose it for...
Precision
Great processing precision is guaranteed by the high friction coefficient belts. The transmission shafts are composed of sections, which facilitates easy replacement of worn belts. Extraordinary maintenance interventions are also quick and not expensive.
Recirculating ball screws transfer movement to heads for absolute precision. The high precision guides and shaped profile guarantee the absence of play in sliding parts.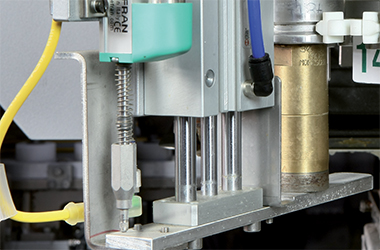 The presetter for automatically measuring core drills, installed on each head of the 780 DMW, accommodates for tool wear and automatically updates the tool storage database accordingly. To avoid hindering cycle performance, the tool check is always carried out in between cycles.
Choose it for...
Automation
The automatic thickness detection guarantees perfect countersinking depth, even when the glass thickness varies from its nominal value. The 780 DMW checks the effective thickness of the glass, and adapts the tool parameters accordingly before processing.
Choose it for...
Quality
All 780 DMW components are selected to give the best performance and reliability. Bottero chooses the best suppliers on the market for all components; electronic, electric, pneumatic and mechanical, to provide its clients with the best product.
Technical specifications
780 DMW
Max. glass size
3210 x 6000 mm
Min. glass size
200 x 400 mm
Glass thickness
3 ÷ 19 mm
Max. feasible hole diameter
70 mm
Automatic tool change
64 positions (16 for each head)
Worktable height
900 ± 25 mm